In Memory of Ann D. Hearn
Ann Dalhberg Hearn died at 83. A highly popular and respected AKC Best In Show Judge whose sense of humor and kindness from center ring will be sorely missed.
December 28, 2018
Barbara J. Andrews, Editor-In-Chief, SAAB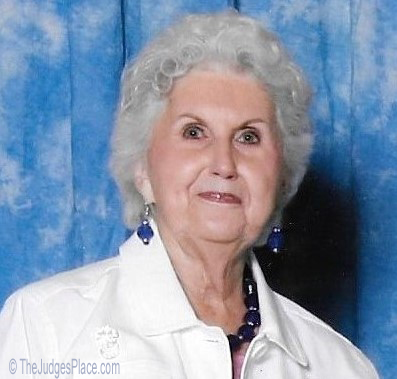 Ann Hearn, beloved dog show judge from of Buford, GA, died suddenly Tuesday, November 20, 2018. Ann was 83 years young. As vibrant and glamorous as any 20-year old, she was a model for the sport of dogs. Fittingly, a CELEBRATION of her life was held Saturday, December 29, 2018.
Ann was a "terrier person" through and through but she judged Sporting, Terrier, Toy and Non-Sporting Groups with great attention to detail and above all, fairness.
Ann is survived by her husband of 62 years, James B. Hearn of Buford GA, two daughters Joli and Lori, and four grandchildren.
We first showed to her with Miniature Bull Terriers, a breed not all judges understood as we had just gotten them AKC recognized. She didn't miss a beat, from a quick, sure-handed exam to sorting them out decisively and to the approval of a crowded ringside. So much so there was spontaneous applause for "the terrier judge."
Ann Hearn wrote a couple of breed books including one on the Chihuahua, another of my breeds. She was right on the mark, perhaps because they are terrier-like as is the Miniature Pinschers which she also owned in addition to her terriers. She was insightful and really "tuned in" to each breed's characteristics and type, in and out of the ring.
Ann judged for 34 years and all would agree, she loved dogs, and she truly had an "eye for a dog" which, by the way, was where the attention was focused! Some judges are intimidated by the "big guy" handlers but I never saw that happen... Partly because everyone respected her but mostly because she got them (the lineup) right.
The family has requested a Take The Lead contribution be made instead of flowers. They know best and I am sure that is exactly what Ann Hearn would prefer - she was a caring, giving person. She will be sorely missed, both in and out of the ring.
Please be sure to read TheJudgesPlace.com Exclusive Interview AKC Judge, Ann D. Hearn.
TheDogPress.com EST 2002 © 1812 https://www.thedogpress.com/Obituary/Hearn-Ann-1812.asp
SSI
Your $29 Insider Subscription insures that people around the world can access authenticated, peer-reviewed information about Dog News, Pet Food, columns about the Sport of Dogs and Dog Club Information.
Paid Insider Access also helps us protect YOUR rights from "Animal Rights" legislation, local politics and so much more...
SSI
Brought to you by the NetPlaces Network
The world's 1st public website (TheDogPlace.org) from Animal Health to Vaccines.
The world's 1st online dog news, (TheDogPress.com) from AKC records to zoological news.
The world's 1st site by/for dog show judges (TheJudgesPlace.com) educates on purebred dogs.
Mission Statement ~ Privacy Policy ~ ii NetPlaces Network ~ Disclaimer ~ Advertising